Las Vegas is commonly known as "Sin City," and many people take this to refer to the enormous presence of the entertainment and gambling industries across the city. Unfortunately, there is a more sinister—and deadlier—side of Las Vegas that is often not talked about, and this has everything to do with the prevalence of serious car accidents in Las Vegas that can potentially result in injury and death.
Las Vegas saw 12,720 collisions reported in 2016 (a mere 1 percent decrease from 2015) resulting in 217 fatalities across Clark County (an 18 percent increase from 2015). Despite efforts by the state to roll out the "Zero Fatalities" campaign, parts of Las Vegas appear to remain dangerous to both drivers and pedestrians alike.
Interactive Car Accident Map
Thanks to the most recent data and traffic records (2016) obtained from the Nevada Department of Transportation (NDOT) and the Las Vegas Metropolitan Police Department (LVMPD), we have compiled an interactive map notating the locations where car collisions occurred in Las Vegas in 2016.
The map display can be toggled between options to include general car collisions, car accidents resulting in injury and car accidents resulting in fatalities, and we are happy to provide this resource to those who may find this data useful or otherwise beneficial. You can sort the map by fatality, injury, or accident, as well as scroll and zoom to various locations.
Embed the Las Vegas Accident Map on your website. Copy and Past the code below as HTML.
Las Vegas' Most Dangerous Roads
In order to better understand why dangerous car accidents may occur, it is helpful to observe areas that have traditionally been observed to have a high number of collisions resulting in either catastrophic injury or fatality. This can provide an insight of a number of things including typical driver behavior, presence or pedestrians, traffic volume, etc.:
Las Vegas' Most Dangerous Roads – By Incident of Injury, 2016
Name of Road
Number of Injuries
Interstate 15 – Northbound (IR 15)
2325
Interstate 15 – Southbound (IR 15)
836
State Route 589 – Sahara Avenue (SR 589)
631
State Route 147 – Lake Mead Boulevard (SR 147)
300
Eastern Avenue
262
Las Vegas' Most Dangerous Roads – By Fatality, 2016
Name of Road
Number of Fatalities
State Route 595 – Rainbow Boulevard (SR 595)
6
State Route 596 – Jones Boulevard (SR 596)
6
State Route 159 – Charleston Boulevard (SR 159)
5
Alta Drive
4
Dangerous Intersections
Here are photos of some of the most dangerous intersections according to 2016 data. These are where many accidents and deaths happened on Las Vegas roads.
SR595 (Rainbow Blvd) & Alta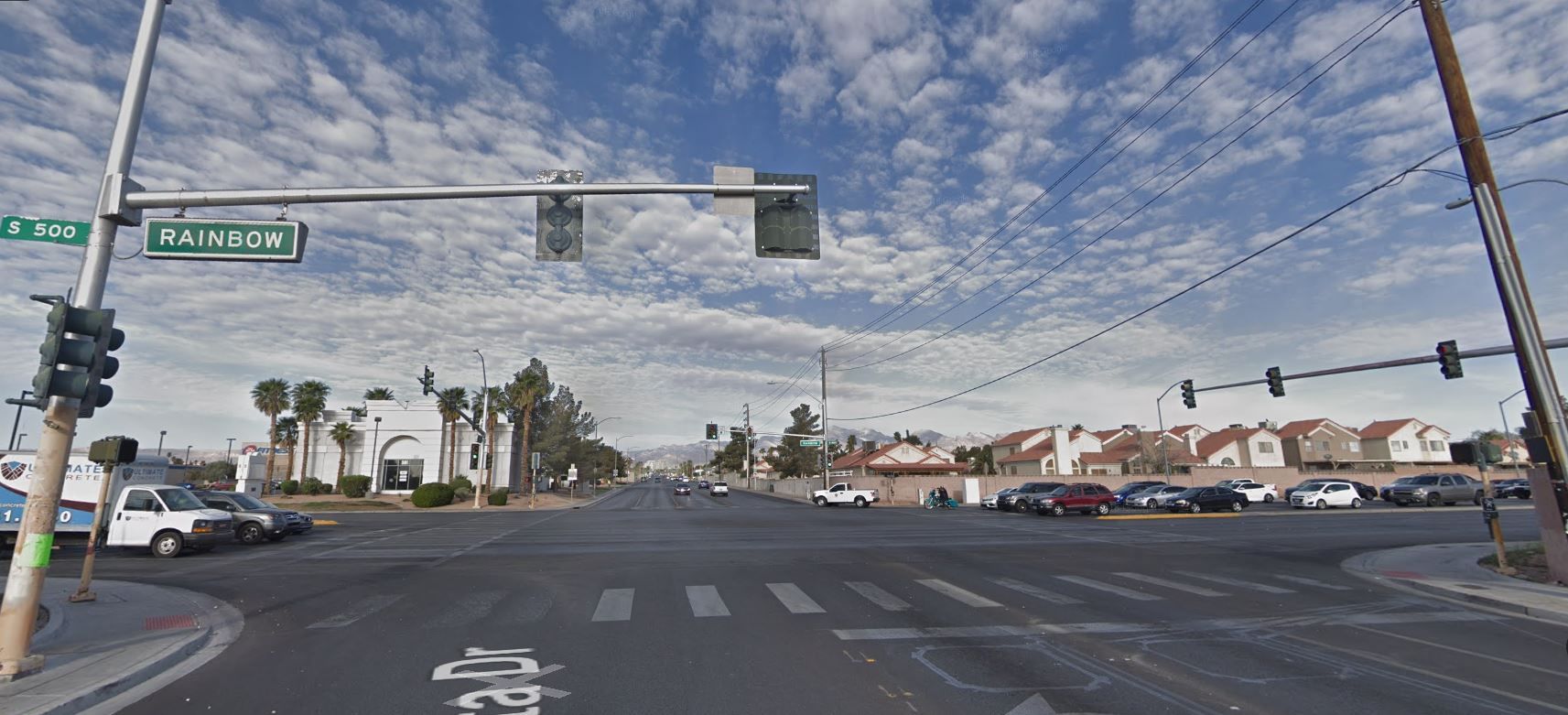 215 & Lone Mountain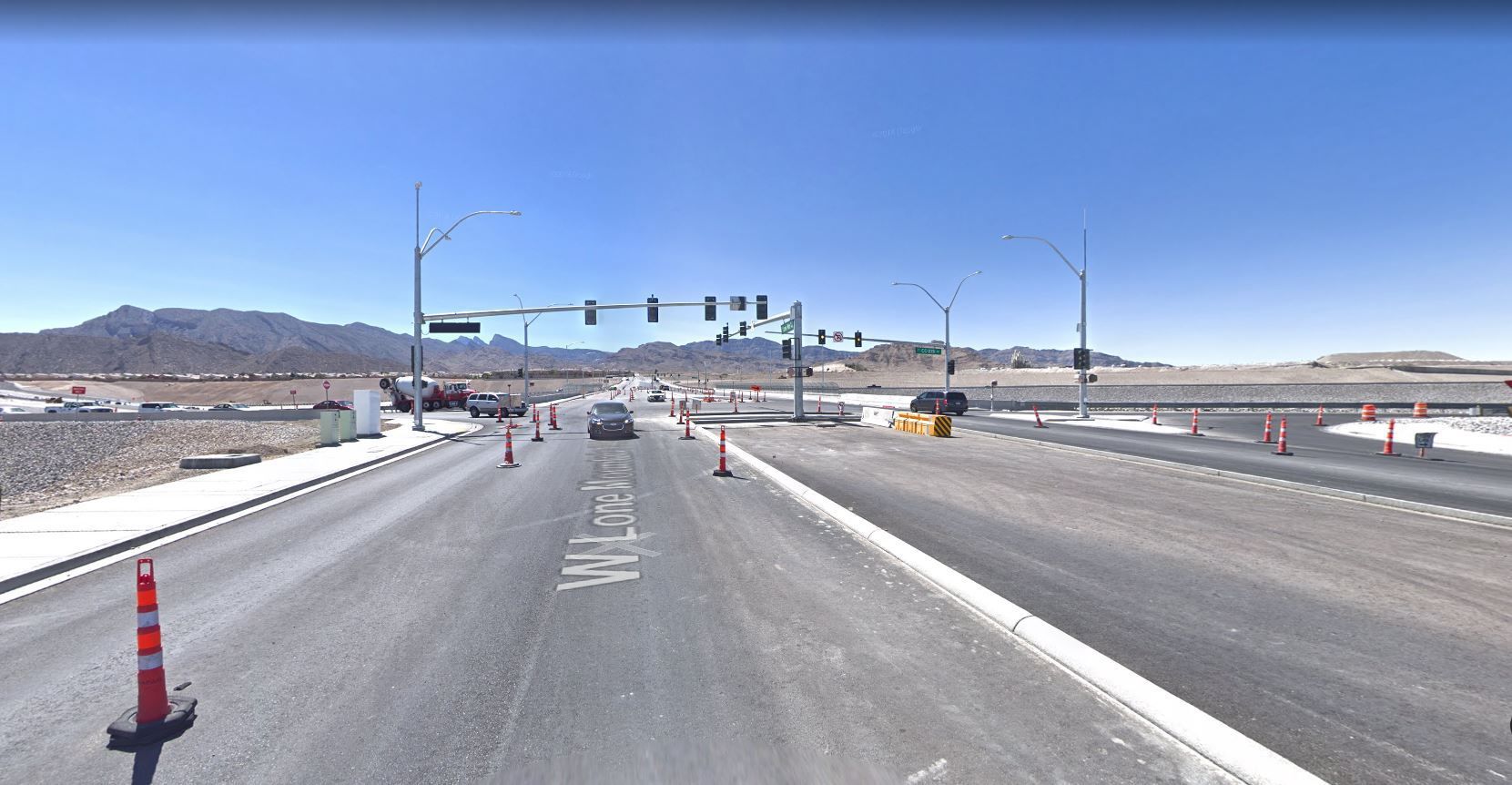 SR596 (Jones Blvd) & West Oakey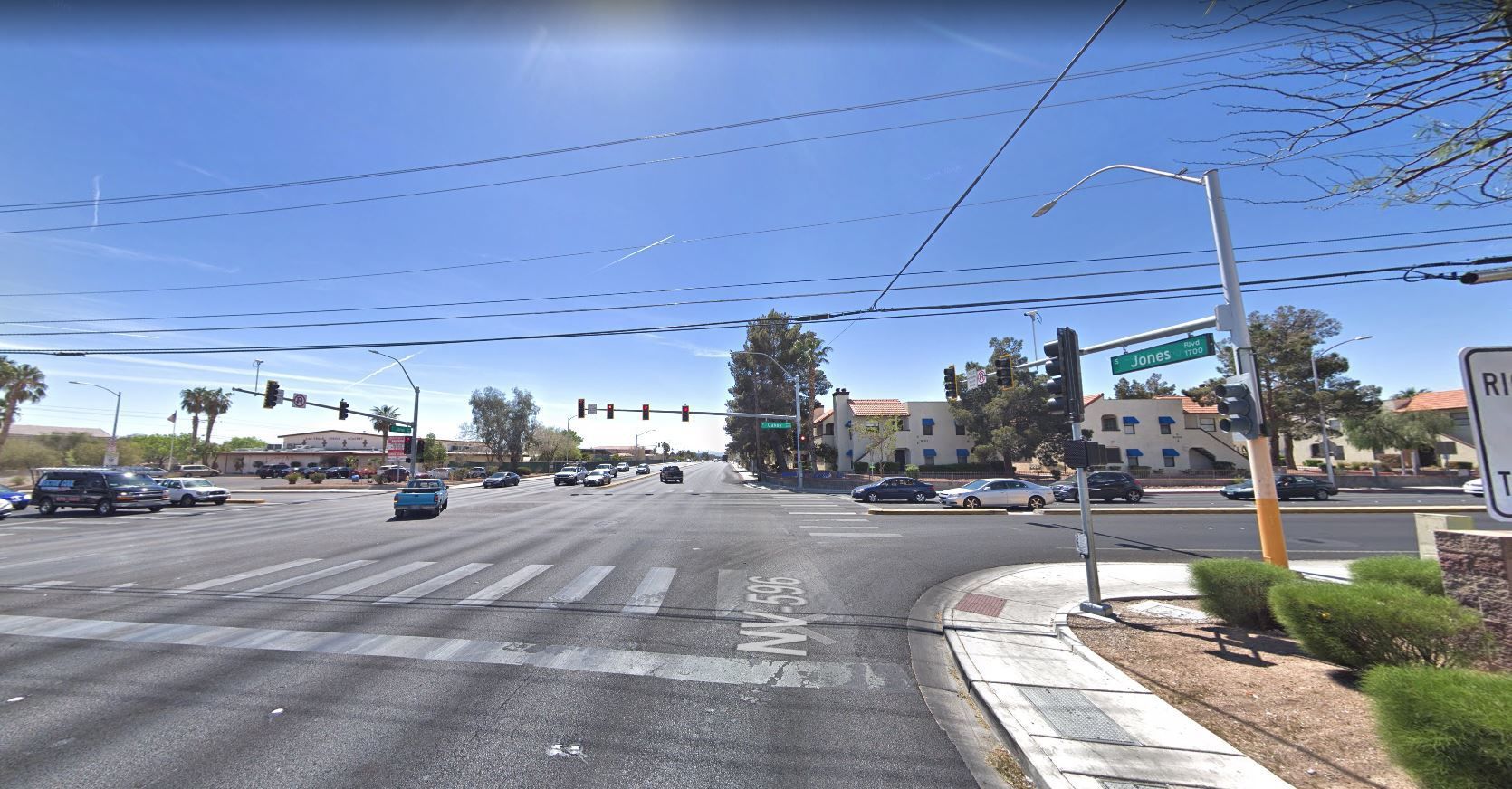 15N & US95N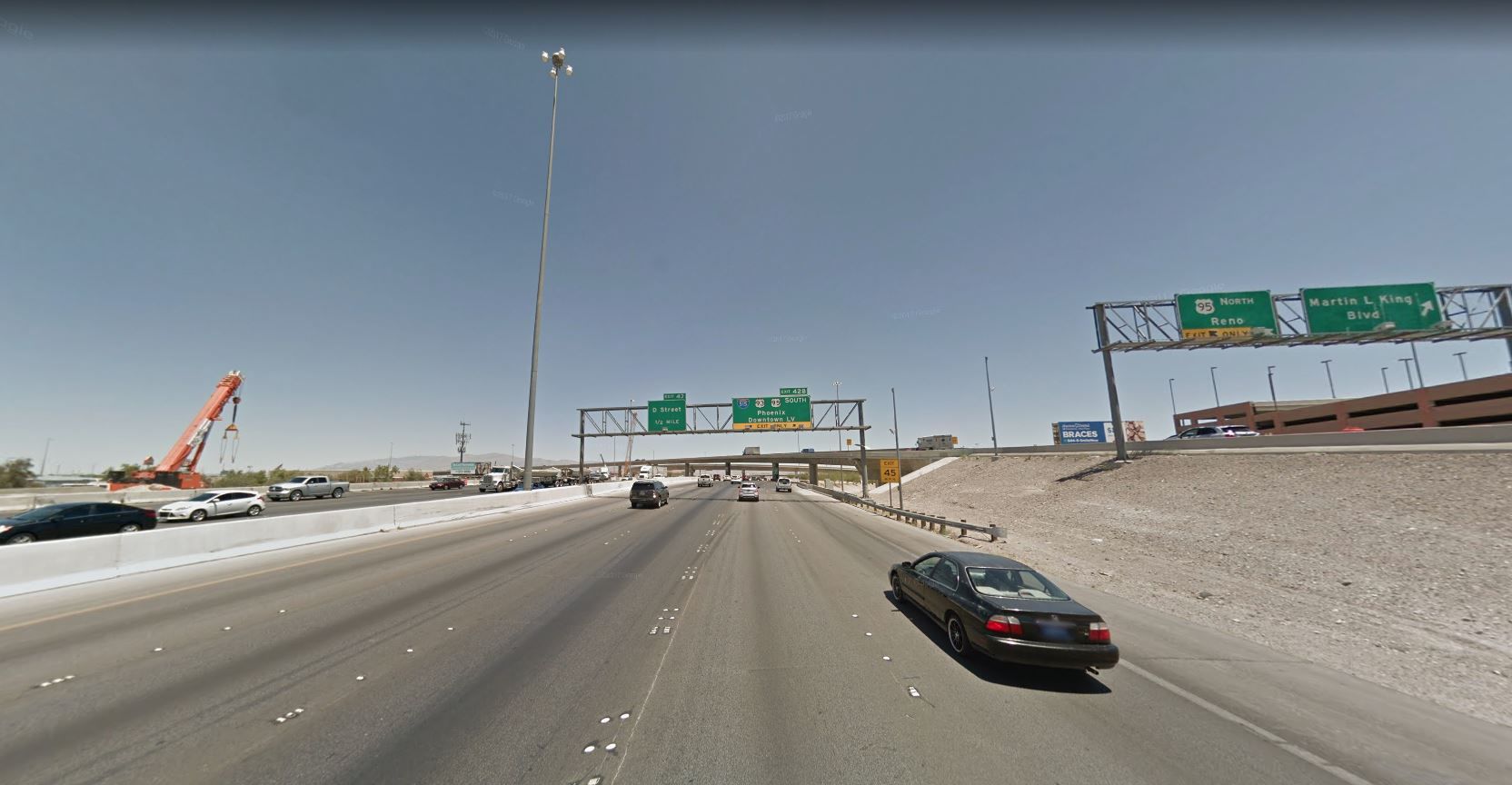 SR589 (Sahara Ave) & Teddy Dr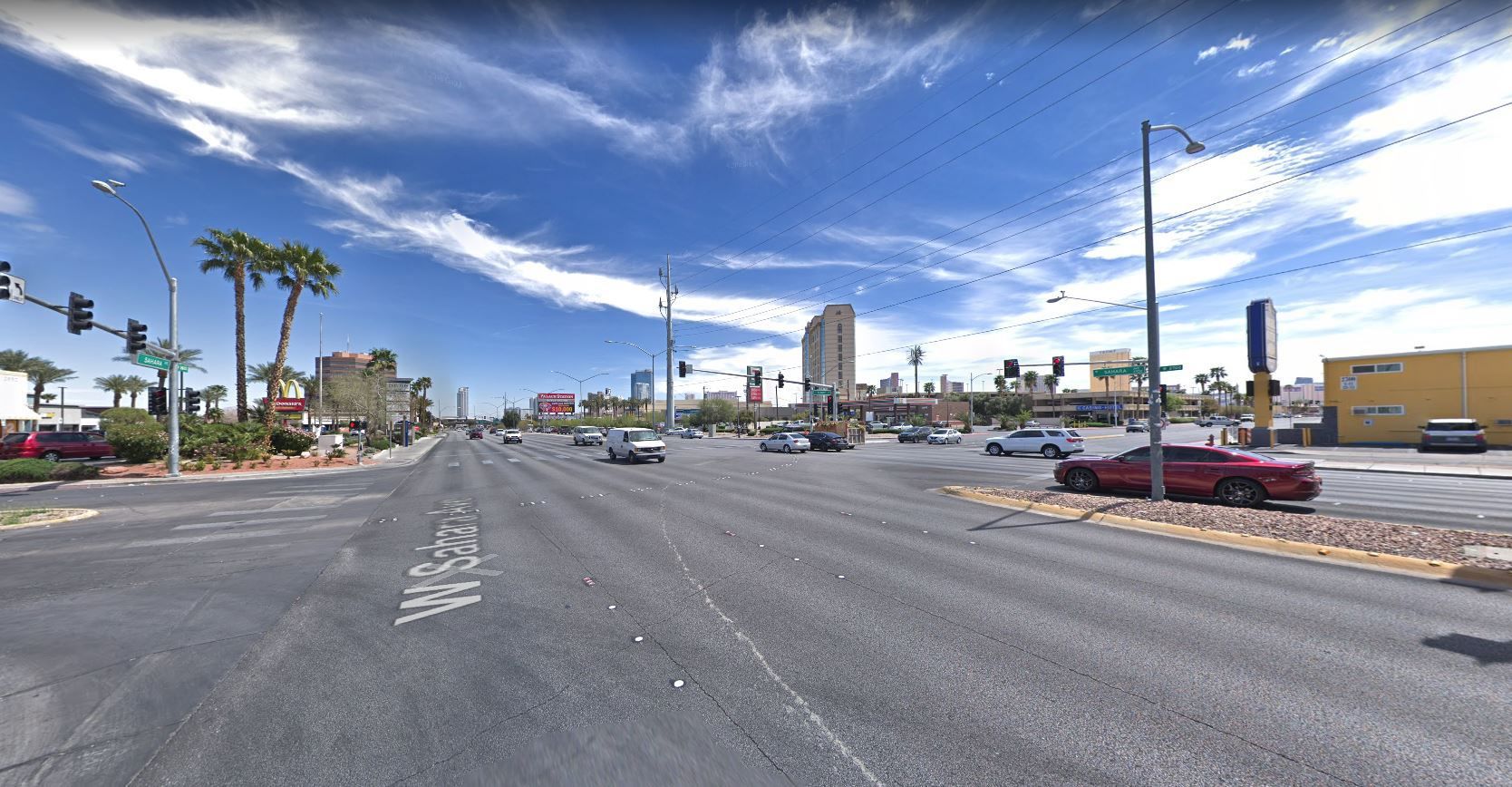 During our research into car accident trends across Las Vegas, we began to notice that areas with a high volume of injuries and/or fatalities seemed to share several qualities with one another. These included:
Areas where speeding is more prone to occur such as highways, state routes and interstates;
Areas of high traffic such as interstate exits and major intersections;
Areas with higher populations such as near apartment complexes and houses; and
Areas with a lack of designated crosswalks and/or adequate signage denoting pedestrian presence.
Sometimes, an accident can occur for a reason that has everything to do with a driver. These reasons could include whether or not someone is driving while distracted, if there are environmental hazards present, or if they are speeding and/or driving recklessly. Other times—but more rarely—pedestrians and other commuters may contribute to an accident.
In any case, a serious car accident is a serious and life-altering occurrence for all parties involved, and although injuries and fatalities from car accidents have generally been in decline in recent years, safe driving behaviors should always be practiced. Even in instances where no one else may be present, driving safely can be the difference between life and death.
Remaining Safe on the Road
Whether you are a driver, a passenger, or a pedestrian there are several things that can be done that will either reduce the likelihood of being involved in an accident or all, or help you escape serious injury or death if you are.
In 2016, not wearing a seat belt contributed to 56 fatalities in Las Vegas. Wearing a seatbelt is one of the simplest actions a driver or vehicle occupant can take to reduce the risk of serious injury or death if an accident occurs.
In 2016, 57 pedestrians were killed in Las Vegas. Pedestrians must take caution when traversing on or near major roads, and must not engage in dangerous or reckless behavior that may cause harm to themselves or to others on the road. This may include not crossing at a designated intersection, not crossing at the proper time ("jaywalking"), or attempting to cross the road while distracted or intoxicated.
In 2016, driving under the influence was responsible for 48 fatalities in Las Vegas. A vehicle should never be driven under the influence of drugs or alcohol—not only is this incredibly unsafe, but it is illegal in the state of Nevada as well.
Distracted driving have devastating consequences. Drivers should keep their full and undivided attention on the road ahead of them and limit the number of distractions that can be caused by cell phones, radios and other occupants.
What to Do If You are Involved in a Car Accident
In the chaos immediately following a car accident, minimizing the amount of damage caused should be a priority to all parties involved. If you are involved in a car accident, the following actions should be taken as soon as possible:
Contact emergency personnel immediately to notify them of the crash (especially if injury or fatality has occurred);
Move out of the direct path of traffic (if possible);
Assess the physical status of both yourself and others involved in the accident. If first aid is required and is able to be performed, do so as necessary;
While waiting for emergency personnel to arrive, exchange insurance and contact information with all parties involved in the accident. This is critical to filing a claim against the individual(s) who may be responsible;
Using your phone or a camera, photograph the scene of the accident in detail to use as evidence in your claim. This is especially important in proving the amount of damages you are entitled to as part of your claim;
Gather the contact information of anyone who witnessed the accident, but may not have been directly involved. This may be helpful in proving the validity of your insurance claim should it be disputed in any way;
While the period immediately following a car accident can seem like a tumultuous blur due to stress, medical bills and the possible death of a loved one, it is also important to retain a seasoned personal injury attorney as soon as possible.
At Cap & Kudler we know firsthand that having a seasoned legal team fighting for you can be the difference between successfully recovering damages and walking away with nothing, should your claim end up in court. If you or a loved one has been injured or killed in a Las Vegas car accident, contact us to discuss the details of your claim today.
Embed the Las Vegas Accident Map on Your Site: Copy and Paste the Code Below
<p></br><a href="https://lasvegaspersonalinjuryexperts.com/useful-information/las-vegas-accident-map/"><iframe src=" https://lasvegaspersonalinjuryexperts.com/las-vegas-accident-map" alt="Las Vegas Accident Map" width="100%" height="650″/></iframe><a href="https://lasvegaspersonalinjuryexperts.com/useful-information/las-vegas-accident-map/">Las Vegas Accident Map</a> – Cap and Kudler</br>