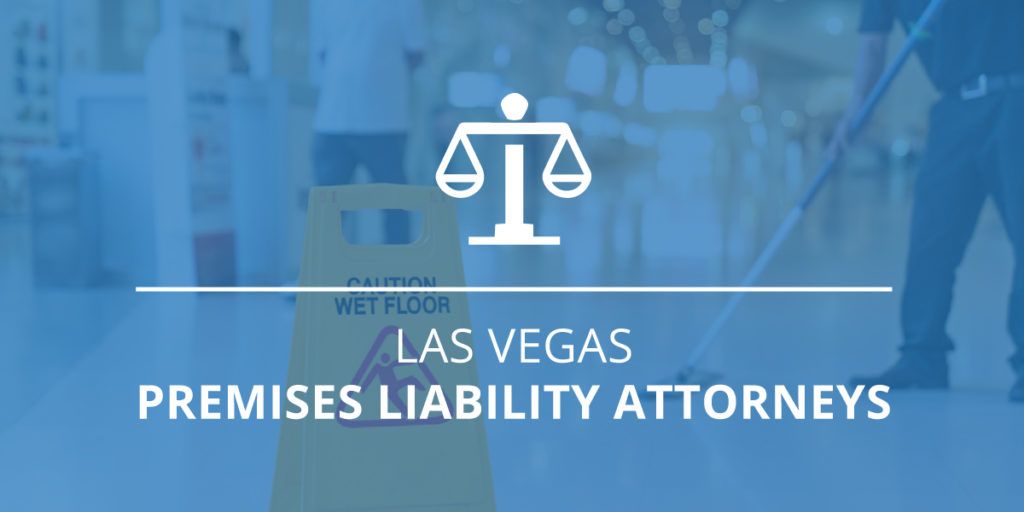 Las Vegas is a city that is built on the idea of bringing in the public. Las Vegas is a tourist town where almost everything in sight is open to the public and geared towards attracting as many people as possible. With the desire to attract the public onto their premises, property owners must also accept the responsibility of maintaining a safe environment and protecting the people who enter.
Visitors must be properly made aware of any type of unusual danger on private property which allows public access. For example, signs must be posted if a floor is wet because of a spill or cleaning, or broken escalators and stairs must be closed off from access.
Many hospitality-based businesses in Las Vegas have full-time employees who are tasked with minimizing incidents that might lead to premises liability lawsuits on hotel, casino, or entertainment properties, but that doesn't mean that accidents don't still happen.
What To Do If You Have An Accident
Some businesses in Las Vegas are so conscious of their premises liability that if you do have an accident on their property, you'll have someone standing over you asking what happened and offering to help before you even realize you're on the ground. One of the common tactics hotels and casinos will use to mitigate premises liability accidents is to offer comps (free nights, games, shows, etc.) to "make up" for the incident.
It's important that if you do have an accident on a Las Vegas property, you take a moment to relax, look around, and make sure that you fully understand what happened. You shouldn't say anything to employees of the property—except, perhaps, to ask where you can get medical attention. You most certainly shouldn't give them any type of statement, written or recorded, or sign anything they may present to you.
Once your immediate medical needs have been taken care of, you should contact a premises liability lawyer or slip and fall attorney familiar with and experienced in premises liability claims. The premises liability attorneys at Cap & Kudler will investigate your case and help you determine the best steps to take going forward.
Some of the most common examples of a premises liability accident in Las Vegas include things such as:
Car accidents in parking lots because of bad maintenance or missing signs
Robbery or assault that could have been prevented by negligent security
Pool accidents caused by poor maintenance or improper supervision
Slip and fall accidents on wet or slippery floors
Even if you don't think your accident was a big deal, minor symptoms can turn out to be indicators of serious injuries later. Aches and pains could turn out to be broken bones or a headache could indicate a brain injury. Something that starts out small could lead to significant medical bills in the future.
How Do I Know If A Property Owner Is Liable For My Injury?
If you've been injured on the premises of a business open to the public and you believe that that the accident was someone else's fault, the only way to know for sure is to take the details to experienced Las Vegas premises liability attorneys like Cap & Kudler. We can investigate your case and examine the evidence to determine if you have a valid case worth pursuing.
Even if you believe you made a mistake, the owner of the property where you were injured may still be partially responsible for what happened and therefore still liable for a percentage of the damages. This is called "comparative fault".
Responsibilities Of Las Vegas, Nevada Property Owners
Property owners have a responsibility to provide an environment that would meet an average visitor's expectation of reasonable safety and security. This includes some common things that we might see every day as well as things that go on behind the scenes that we don't often think about. Some examples of a property owner's responsibilities include:
Keeping areas free of dangerous obstacles
Providing sufficient lighting
Maintaining sufficient security of the premises
Keeping floors dry, safe, and clear of debris
Maintaining safety elements such as fire extinguishers or emergency phones
Marking any temporary dangerous conditions such as a slippery floor
Ensuring the correct functioning of emergency exits and alarms
Ensuring safety from animal attacks or dog bites
Maintaining and repairing surfaces in parking lots
Providing proper safety equipment and staff at swimming pools
Taking extra measures to ensure the safety of specially targeted patrons like children or senior citizens.
If you've been injured in an accident on someone else's property and you believe anything mentioned above may have been a contributing factor, you should contact a premises liability lawyer as soon as possible.
Premises Liability And Personal Injury Statutes In Nevada
Each state has statutes of limitations that provide a set amount of time a claimant has to file any kind of legal action after they have suffered an injury. Once that time has passed, you won't be able to file a personal injury claim.
In Nevada, the statute of limitations for premises liability claims involving an injury is two years starting from the date the injury occurred. For premises liability claims which are only for property damage—such as damage to a car—the statutory limit is three years. If you attempt to file a claim after the time limit has passed, the defendant can simply ask the court to dismiss it for failure to file before the statutory limit.
Once your attorney files the complaint and required accompanying paperwork with the court, the defendant will be given an opportunity to respond. From there, negotiations will begin with the property owner(s) or their insurance company to see if an acceptable settlement can be reached. If no settlement agreement can be reached, the case will eventually go to trial and a jury will decide the outcome and compensation to be paid—assuming that the defendant is found liable.
The majority of personal injury cases are settled through negotiation and never go to trial. In most cases, the defendants will agree to pay more than the first offer in exchange for a speedy resolution while the plaintiff will take a smaller final amount if they know they will receive it faster.
The final decision on anything is, of course, up to the plaintiff (you), but it is extremely important to carefully consider your attorney's advice regarding the potential value of your claim if it is settled or if it goes to trial. A plaintiff with a strong case will generally receive a larger award by allowing their case to go to trial.
Speak With Qualified Las Vegas Premises Liability Attorneys
If you believe you have a valid premises liability claim in the Las Vegas, NV area or anywhere else in Nevada, you should speak with a qualified and experienced personal injury lawyer as soon as possible. In premises liability cases, it's essential to investigate the accident while your memory is fresh and potential evidence is still readily available. There is also a statute of limitations that limit the amount of time you have to file a claim after your accident occurs.
The law office of Cap & Kudler is a personal injury law firm with more than 30 years of experience and a track record of proven success with premises liability claims. Our team of Las Vegas premises liability attorneys will work hard to make sure that you get the full and fair compensation to which you are entitled.
You can contact us online anytime or call (702) 878-8778 to schedule a confidential and free consultation. We'll be happy to go over the details of your case, give you an honest case evaluation of your premises liability claim, and discuss what our law firm can do to help you.