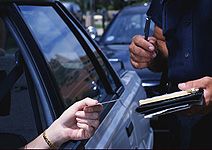 You got a ticket, you should take it seriously. At Cap and Kudler, our attorneys have extensive experience helping clients resolve all kinds of traffic matters. The results of ignoring a ticket can be serious, especially if you are a commercial driver who depends on your license for your living. Even if you aren't, the costs in increased insurance rates and other penalties can be high.
Cap and Kudler assists clients who have been cited with traffic violations, including:
Reckless Driving
Speeding
Moving Violations
Driving Under the Influence
Driving Without a License
Driving With a Suspended License
Illegal Parking
Failure to Pay a Parking Ticket
We know our way around the traffic courts and will help you understand the potential penalties you face and help you fight the ticket, quash warrants and protect your driving privileges.
Straight answers, personal attention and exceptional results. Choose the Las Vegas traffic litigation firm of Cap and Kudler to protect your rights. Call us today at (866) 412-7166 or submit an online form to schedule your free consultation.